How it Works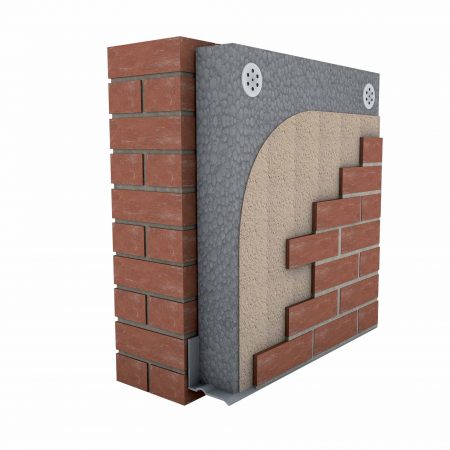 External Wall Insulation (E.W.I.) is the most effective way of thermally protecting a building and is able to ensure maximum carbon savings for practicality and development.
Quickly and easily applied it can be finished in a choice of textures and in any colour.
 On old buildings it is used primarily to make them thermally efficient, but because it is clad to the outside, it can also be used to protect the structure. The rendered finish shields the building from the elements whilst giving it a new look, saving time and money on other trades.
With new builds, walls can be constructed in very little time as insulation and finish can be achieved simultaneously reducing construction time and cost.
 With a variety of systems, finishes and detailing, speed and efficiency can be combined with design to create whatever look is required.

In recent times , We are seeing more brick slip system being specified on ewi projects Brick is familiar, comforting and reliable. That is why it is still a popular choice of finish for architects seeking to incorporate the traditional values of warmth and strength in their designs. Traditionally, brick slips were manufactured by literally removing the face of an existing brick. This however proved to be very costly and led to a substantial amount of waste material. Brick Slips provide a unique, cost effective method of achieving a genuine brick effect by using brick slips and pistol corners that have been specially designed for this particular purpose. Brick Slip Systems are particularly beneficial, especially for projects where the use of real brick is impossible or impractical.
Offer a professional, real brick finish
Give a higher level of accuracy and alignment
Superb adhesion properties
Faster application compared to traditional methods
Additional foundations are not required
Suitable for both internal and external applications
All systems are fully approved by the BBA & Irish Agrement, carrying lengthy warranties.